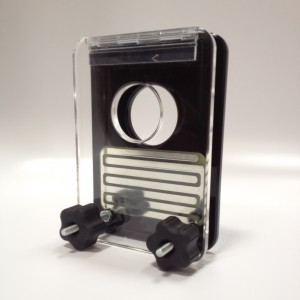 Introducing the BiPolar Acrylic Ball Vise.
We now carry a durable and effective alternative way to stimulate your balls. This device is bipolar and can be connected by itself to an output channel of an ErosTek power unit to produce a range of sensations focusing on the balls. It can also be connected in a split configuration, with each of the electrode areas pairing with another electrode placed on the cock (like the CockCap) or in the butt (like the FlexProbe).  I've used it both ways during product testing, and I personally prefer the new sensations provided in the split configuration. I connected one conductor of the vise along with a CockCap and the other conductor with one side of a BiPolar Butt Plug. Rotating the plug  generated some unexpected results from the varying current flows and proximity to the prostate gland. Lots of fun! More information on the online store.
This ball vise is Made in the USA and crafted of high-quality components, designed to last a long time.