ErosLink + Windows 7? You Bet!
I just installed Windows 7 Professional in order to test ErosLink for the ET312 and discovered a few good things.
First, Windows 7 seems faster than Windows XP or Vista which is a cool "feature" of any new operating system.
Secondly, ErosLink works just fine under Windows 7. I used one of our USB to Serial adapters (with an FTDI chipset) and as soon as I connected it to my computer, Windows 7 discovered it and initially couldn't figure out how to make it work. I opened the troubleshooter balloon that popped up and told the system to allow Windows to find the best driver for my device. It went out and did some searching and in a minute or so, installed the driver and presented me with a new COM port (COM3 in my case).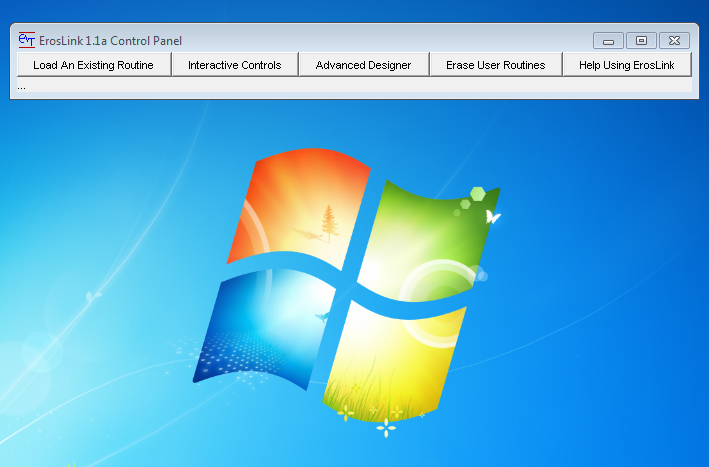 Installing ErosLink went smoothly also. I inserted the CD and Windows asked me what I wanted to do with it. I clicked on the default (Install) and the installer launched and in less than a minute, I had an ErosLink program installed on my computer, ready to launch.
I connected the USB to Serial adapter port to the included serial cable that comes with ErosLink and plugged the stereo plug into the Link jack of my ET312, then powered it OFF and back ON again. A fresh restart is important when connecting your 312 to ErosLink. Then I clicked the Start menu (lower left of window) and found ErosLink waiting as a recent application to click on. It discovered my ET312, synchronized to it and connected, giving me the status bar of options. From there, I downloaded a few user routines to the box and tried the interactive mode without any loss of connection or other issues.
So there we have it: ErosLink works under Windows 7 too! And if you're having problems getting Windows to find the right driver, the manufacturer site has updates for our USB to Serial adapter.