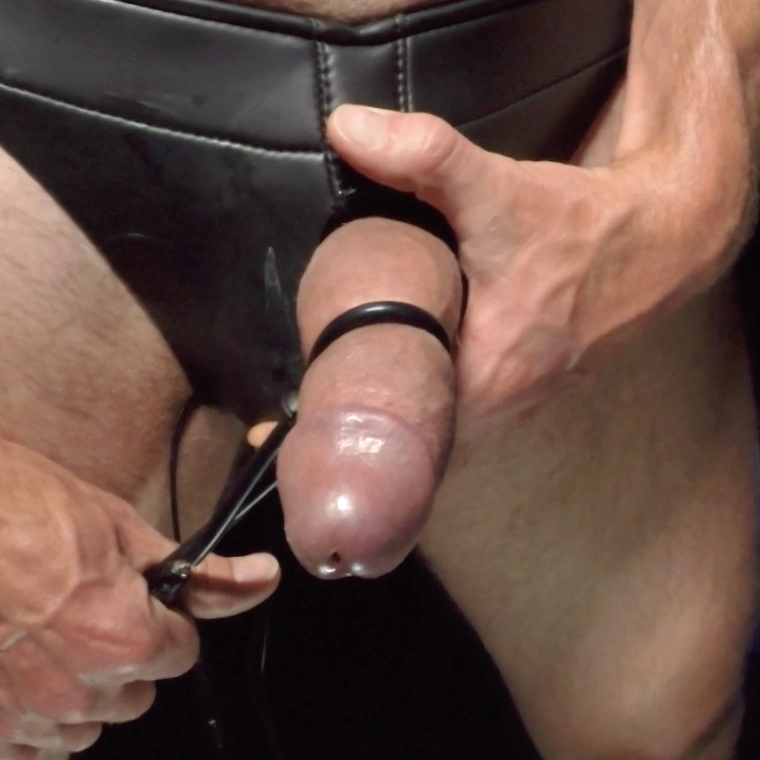 Rock the Cock
When we guys think about getting off, we think about our cock. It's covered in nerve endings, especially the corona (head) and we all know how pleasurable stroking, sucking, and fucking feel. What happens when we connect a few wires to it and pass some current through it? A few things.
Once you get the hang of electro, just thinking about laying out the gear, stripping out of your clothes, getting naked and pulling the gear on can be more than enough to cause an arousal response. I get hard writing about the process too — hopefully I can stay with this long enough to tell you a few stories about how I get wired up.
Hold on. You mean you're just going to describe how you do it? What about the electrical engineering courses I need to take in order to really understand electro play?
It's not that complicated. I'm going to introduce a few terms while I tell you a story. That way, the terms will have relevance and allow us to have an electrical discussion as we go. Each chapter will build on the previous ones. You will soon have an understanding of the basics and feel confident enough to set off on your own adventure. With this goal in mind, let's return to the main attraction: Your Cock.
There are lots of ways to stimulate your cock using electro-stim. There are metal and conductive rubber rings that slide along the shaft or behind the cock and balls. There are conductive elastic fabric bands. There are gel pads that stick to the skin — just peel them apart, stick and stim. And then there's something called a CockCap. It's a bell-shaped stainless-steel electrode that cups the corona and is held snugly in place with a condom. And there are more exotic devices including cock and ball "vises". Imagine squeezing your cock between two sheets of hard plastic with electrodes placed inside — it can be pleasurable or quite intense. Then there are conductive urethral sounds — polished metal rods in a variety of sizes that go into your shaft via the urethra.
Common Ways to Stimulate the Cock:
electrode: a conductive material used to conduct current. In the case of electro-stim, an electrode is anything that is wired to a power unit and connected to the skin in order to enable current flow between one electrode and another. The list above contains different kinds of electrodes. They all do the same thing — conduct an electrical current through the body — but they vary in shape, size, material and placement on the body.
At some point, this long list of options gets narrowed down to the specific things you like.
If you like the look of metal rings, you'll need a few sizes to get started since they need to fit snugly on your cock when its hard, and as we know, every cock is different. Conductive rubber loops and elastic fabric bands are adjustable, so you can easily adapt them and get started mid-chub and ease into a full erection with minor adjustments as needed. Gel electrodes are very easy to use, but I find that they slip off unless they're brand new and I sit still. Your cock needs to be clean and dry — no lube, sweat or oils — in order for gels to adhere well and conduct electricity. They are the only electrode type that doesn't require some kind of conductive gel or lubricant. All other electrodes need a squirt of water-based lube or conductive gel (like Spectra 360) in order to make good contact with the skin and the nerve endings deep inside.
I'm crazy about the CockCap. It's an invention I developed based a plumbing part I picked up and adapted at the hardware store. I enjoy the feeling it produces and the fact that it stays on whether my cock is hard or soft. The latex condom that holds it in place also acts as an insulator, allowing me to stroke with my hand while feeling the current flowing through my cock. When I finally shoot, the CockCap captures my load and contains it. I've logged some really long sessions — with rest breaks where I set the output levels down to the point where I can barely feel the pulses — and keep the CockCap and the rest of my gear on the whole time. That's the idea behind "edging" and if you have a few hours of peace and quiet, it's one of my favorite activities. The resulting, full-body orgasm is unlike anything I've tried.
The remaining cock electrodes — conductive cock and ball vises and urethral sounds — require some experience before diving in. I would not recommend them for early explorations in electro-sex. It's easy to add new electrode toys once you get comfortable with your power unit. Start with the basics and add more as you go.
So now that you have a better idea of what goes on the cock, what makes the current flow?
A power unit is used to generate the pulses. These come in a wide range of shapes and sizes, from inexpensive medical TENS units designed to treat chronic back pain to made-for-play devices like the ET312B that were built to feel good and have a variety of modes (or routines) that keep you and your cock from getting bored. ErosTek presently makes 3 different power units: