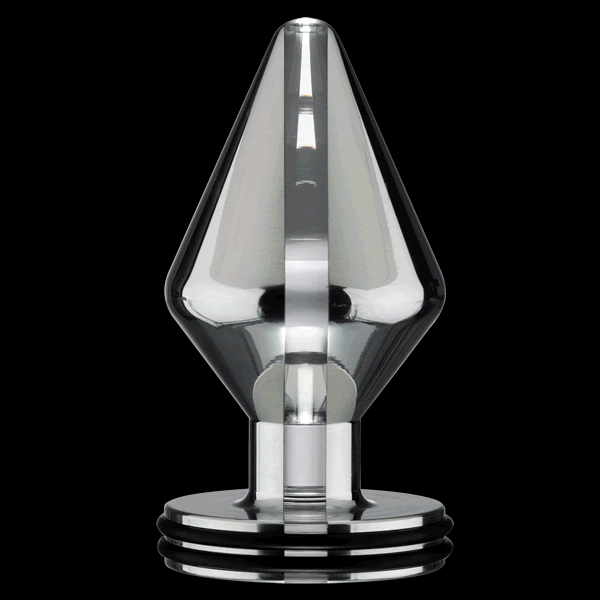 Anal Attentive
In this section, I'll describe a few ways you can apply the magic of electro-stim to your butt. It turns out that lot of guys — gay and straight — have been exploring prostate massage and stimulation, and electro-stim is just another way to go. That said, you don't have to go anal, but if you do, it's new world to explore. Let's look at a few ways you can do it.
First, let's learn a few terms: "monopolar" and "bipolar". Both of these are ways of describing the number of electrodes in a device. Monopolar devices have 1 electrode surface, and need to be paired with another electrode in order to allow current to flow. Bipolar devices have 2 electrode surfaces and can be connected to an output channel all by themselves.
In the case of the bipolar probe, we have a device that is designed to produce localized stimulation to the anus and prostate gland. I tend to use a bipolar plug most of the time for to the sensations it produces, and its ease of use. To get started, just pick a model you like, connect the leads, lube up your butt and the plug with some water-based lube, connect your power unit, power UP and you're ready to go. There are many sizes and shapes to choose from. Deciding which one(s) to get can take some time to consider. Thankfully, there are several fine choices to consider.
Bipolar Plugs are available in a variety of materials and some are more durable and reliable than others. Early electric butt plugs were made from cast epoxy or acrylic with conductive metal adhesive strips attached to the surface of the plug. These were the only kind of bipolar plug available back in the early 1990's and they worked well until the metal surface became nicked or started to peel away from the body of the plug. Once that happened, the edges of the metal foil were sharp and dangerous to continue using. I'd sand the edges with fine sandpaper to extend the usable life, but at some point, I had to throw the whole plug away. It was great fun while it lasted.
Present designs are made of metals, resins and conductive elastomers (silicone or thermoplastic rubber), which are machined from solid materials and bonded together with a super-strong adhesive or mechanically bolted together. These modern plugs eliminate the problem of electrode failure by using an inherently conductive material that runs throughout the material itself. They not only look great, they feel great — and they last a long time with minimal effort — just wash up when you're done and dry them off before storing them away for the next session.
I suggest choosing a design that has a shape that appeals to you and check the insulating gap between the two metal electrodes. The insulator is usually a black resin or clear acrylic material and in my experience, thicker insulators feel better than thin ones. Your mileage may vary. Feel free to experiment, ask around and find what is best for you.
Do I really have to do anal?
If you've never had anything in your butt, you will want to take spend some time getting used to the idea before grabbing a butt plug and putting it in. Think of getting to know your ass as just another awareness exercise. It's a gradual process, one that requires some learning and experimentation. I didn't get comfortable with the idea of using my butt overnight, but I fortunately received enough guidance from other more experienced guys and from resources I read online. Here are a few articles and one well-written book I've found that will help you get started:
We Need to Talk About Butt Sex a great article by Mark O'Connell, a psychotherapist in NYC's Flatiron District with links to several books and resources including:
The Ins and Outs of Gay Sex by Stephen E. Goldstone (1999)
This book has lots of useful information for guys who want to explore their bodies, regardless of sexual orientation. Don't let the title fool you: while gay men might be more adventurous, all guys just wanna have fun, right? —Eric
So what does anal electro feel like?
Bipolar plugs stimulate the anal sphincter and cause the muscles to contract and relax in time with the stimulation pulses. The current flows into the muscles and nerve endings and the surge, even at moderate output levels, is powerful and erotic. It's the feeling of physical movement — in and out — coupled with e-stim that completes the electro-stim experience for most men.
What if I want to experiment?
If you've been stimming for awhile, you might wonder if you can change the feeling of your bipolar plug by connecting in different ways. Although this is an advanced topic, I'll go over it here so you have an idea of what lies ahead once as you get more comfortable using electro-stim. You now know that a bipolar plug has two electrodes, making a complete circuit all by itself, which makes it easy to connect to an output of your power unit. Now imagine electrically separating those electrodes to create two "monopolar" electrodes that just happen to be on the same device. When you look at a bipolar that way, you now have two other electrodes to think about in order to complete the circuit. Here are some ways I "split" my bipolar plug when craving a new sensation:
Normal split configuration:
Bipolar A with CockCap on channel A
Bipolar B with ECup on channel B
Modified split:
Bipolar A with conductive rubber loop or coil on channel A
Bipolar B with ECup on channel B
Note: Bipolar A and Bipolar B are just arbitrary labels, not absolutes.
You can split the bipolar electrically when using other configurations like TriPhase with the ET312 power unit. TriPhase will be covered in the chapter about the ET312. You will soon see: there are many options.