This track was composed using a Moog DFAM and Mother-32, with each output sent to its own stereo channel (L / R). I made this while wired up to an ET312B in Audio 3. This is a stereo track so it works best with an ET312B.
ET312B Setup: Select Audio 3 mode and set MA control to 12 o'clock with output of music player set to maximum.
Channel A: CockCap paired with an ECup
Channel B: Large Flo BiPolar
Enjoy! -–Eric
You can download this track for offline use by clicking the download icon: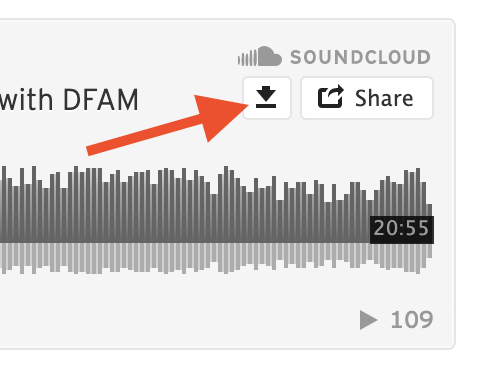 I downloaded this app  — Arpeggionome — and thought it might feel good if connected to the ET312 in Audio 3 mode. Sure enough, I got a hands-free orgasm (HFO) tonight playing with this iPhone app! Check out the demo I recorded and grab the app if you've got an iPhone or iPad. Loads of fun for just $1.99.
Here's a fresh new "AudioStim" file made for use with the ErosTek ET312B power unit.
Download the file. Option-click one of the choices below to save to your computer.
Import into iTunes or other music library software.
Transfer to portable music player or other device.
Patch sound output to the ET312 Audio jack using the supplied audio cable – stereo 3.5mm plug on both ends.
Select "Audio 2" or "Audio 3"
Set MA (MultiAdjust) control to 12 o'clock position – adjust as needed to match sound player output.
Select looped playback on music player for best results.
Pounder 133 Apple Lossless (15 MB)
Pounder 133 mp4 (5 MB)
I made this track using Native Instruments Maschine controller and software on Mac OS X, using factory project "Pounder" and made some modifications: panning groups left and right to isolate channels, adjusted tempo, duplicated scenes, other tweaks. I really liked this and expect more to come soon. And I was wired up while editing the project – that's how I know it works!
And check out the other articles related to AudioStim.
Comments are invited. Enjoy! –Eric