Guide to E-Stim
Creative minds found new uses for a 1950's device called the Relaxacisor.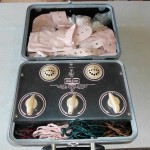 As the name implies, the Relaxacisor provided passive "exercise" by stimulating muscles with an electrical current. This later became more commonly known as EMS, or Electro Muscular Stimulation, and is still around today. It didn't take long for creative people to figure out they could wire these units to more sensitive parts of the anatomy and stimulate more than just muscles. So at least since the 50's people have been getting off while wired up. Most EMS devices, however, offer little variety in their stimulation.
The medical profession helped out in the late 1970's with the introduction of TENS or Transcutaneous Electrical Nerve Stimulation.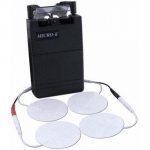 TENS is widely used by physical therapists for pain management. Again, many people found alternate uses for their TENS units. Many offer more variety in their output than EMS devices, and are optimized to act on nerves rather than muscles, but they're typically less powerful and are certainly not designed to be erotic. In fact, they're designed to deaden sensation (such as back pain).
Made-for-play devices first became popular somewhere around the early 1980's.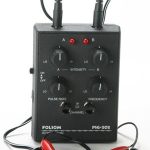 Most work on roughly the same principal as TENS and EMS devices but are marketed for erotic purposes. They usually allow adjustment of frequency and level, but most lack other options to add sufficient variety to the stimulation. Enthusiasts find most of them boring after a while, as the output doesn't change unless you manually change the settings.
Erotic e-stim technology moved ahead in early 1999 when ErosTek entered the scene.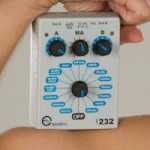 We developed digital Dynamic Pulse Technology and created an entirely new genre of devices. Imagine someone sitting at a piano playing the same single note over and over — that's pretty much what our competitors products do. Now imagine sitting down and having a pianist play real music — that's what our products do. See our Technology section for more details about what makes ErosTek different.
Beginners should start by checking out our Buyer's Guide and Safety sections.
There's also a link on our Resources page to an online forum specializing in erotic e-stim. If you've never experienced any of this, you might want to find someone who's familiar with it to give you a demonstration. It's not for everyone, but even those who suspect they won't like it, often end up wishing they'd discovered it a long time ago.
Safety is Important!
You should only use devices specifically designed for the human body. You should also read all the instructions and safety information that comes with any electrostimulation product. Everyone should read our Safety section.