New ErosTek Online Store Now Open!
Today marks a new beginning! We've just completed moving the ErosTek Online Store to a new e-commerce platform which enables:
Faster browsing
More payment choices
Additional shipping options
Reliable order processing
Gift cards
Bitcoin (BTC), PayPal, all major credit cards
UPS and US Postal Service options to most countries worldwide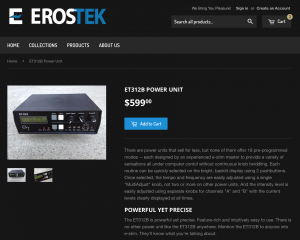 The ErosTek Blog will continue to serve as an uncensored adult theme park while the new shopping cart takes on a slightly more restrained product focus. This is mainly done in order to comply with the host's Terms of Service and yet also makes shopping more straightforward. Worry not. The Blog will continue to grow to become a repository of articles, videos, audioStim tracks and other musings designed to make your e-stim more fulfilling, safer and fun. Enjoy and let me know what you like and what you don't.
-Eric